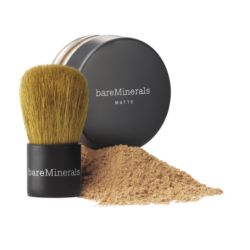 I just have to pass on a good deal when I see one; and I have been seeing a lot lately on QVC and HSN. For some reason I now really like to watch the home shopping network if there is nothing great on TV. (That happens a lot it seems like) I just leave it on in the background while I am doing something else at night and believe me, they have lots of stuff I NEED! Who doesn't need a new set of non-stick cookware, or that great necklace, and I am now a Philosophy girl wanna be!

So the Bare Escentuals line is apparently this great make-up line! Now you can try it for free! (Well actually $1.00 for shipping) Just go here and look for the box on the right side that says Free 10-day sample. When you add it to your cart it looks like shipping will be $3.95 but it ends up to only $1.00 in the end.

Now, don't you feel like you have had your shopping fix for the day, knowing you got such a good deal! Me, too!